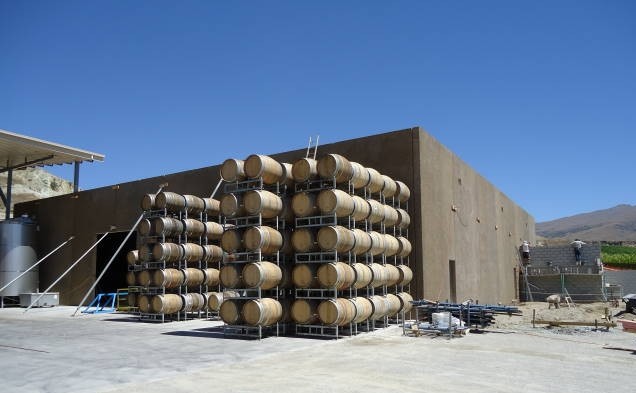 Mt Difficulty Wines, a renowned Pinot Noir producer in Central Otago, needed a new barrel hall to house their increased production. As a low energy input winery, they were keen to create an environmentally sustainable space that would blend into the surrounding countryside, while keeping the wine at a steady temperature and humidity.
We delivered an environmentally sustainable, beautiful and very efficient building, with earth toned exposed aggregate pre-cast panel construction, buried back into the hillside. The frontage has been improved with a macrocapa pergola outside the board room and a lovely warm effect is achieved with cedar shiplap to the barrel room doors.
A 900m², 150mm deep green roof, attractively planted with native grasses, wild thyme and sedum, is visible from the restaurant and tasting room. Along with the insulated slab roof, it helps to maintain a steady temperature in the barrel hall, reduces storm water runoff, and is a disposal area for winery wastewater treatment plant. The green roof and the state-state-of-the-art humidification system and external air heat exchange system keep the barrel hall's heating and cooling costs very low for a location with some of the most extreme temperatures in New Zealand.
Naylor Love was able to identify a number of opportunities for cost savings for the project both during the tender process and as the build progressed. Mt Difficulty Wines was delighted with the finished building, commenting that the technical expertise that Naylor Love contributed made the complex project run very smoothly.
Client: Mt Difficulty Wines Ltd
Completed: May 2012
Categories
Central Otago, Environmental, Industrial & Civil, Pre-ConstructionBACK TO OUR PROJECTS