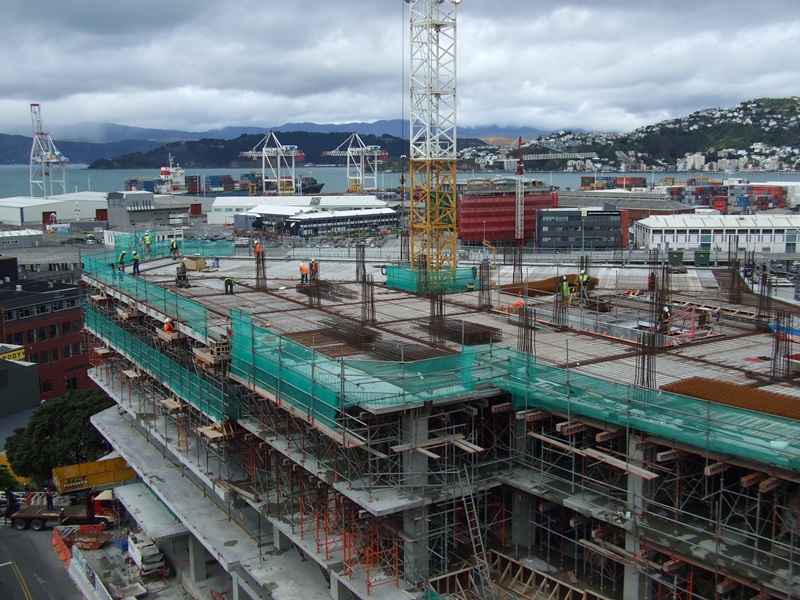 Pipitea Plaza is a 16,500m² nine-storey office block in Thorndon, Wellington, constructed for tenancy by a government agency. It contains office space, technician space, secure storage, a gymnasium and childcare facilities.
The building was constructed on a cramped site. The footprint of nearly every floor was different and a variety of cladding systems were used, so the façade elevations and planes required precise survey and dimensional control. Naylor Love were involved early in the project's design phase to consult on buildability, and constructed comprehensive 3D models so complex geographic coordination could be done prior to the manufacture of building elements. 3D models were also used for cross checking of detailing between design disciplines, shop drawings, and as a primary tool for services coordination.
The tenants were very specific with respect to security, services and finish, with many features being designed or fine-tuned to suit their needs. The exacting nature of the tenant's requirements meant that Naylor Love's quality systems and attention to detail needed to be first-class. The ongoing variations required by the tenant meant substantial design modifications, including significant changes to the building services requirements, were incorporated after the start of construction.
Pipitea Plaza was awarded a 5 Green Star rating by the New Zealand Green Building Council, with environmentally sustainable design and construction features including innovative use of precast cladding panels, flat warm/green roof construction, sophisticated building services controlled by a Building Management System, and rainwater collection and recycling.
The building has continued to perform faultlessly on both constructed quality and sustainability of its services since its completion. The very satisfied client particularly praised Naylor Love's quality workmanship, our ability to keep the programme on track through numerous tenant variations, and our health and safety programme.
Client: Redwood Group
Completed: December 2010
Awards: ​NZ Commercial Project Awards 2011 – Gold and Category Awards for the Wellington Wairarapa Region, Gold in the National Awards for Retail and Business Project
Categories
Commercial, Environmental, Government, Interiors / Fitout, Pre-Construction, WellingtonBACK TO OUR PROJECTS