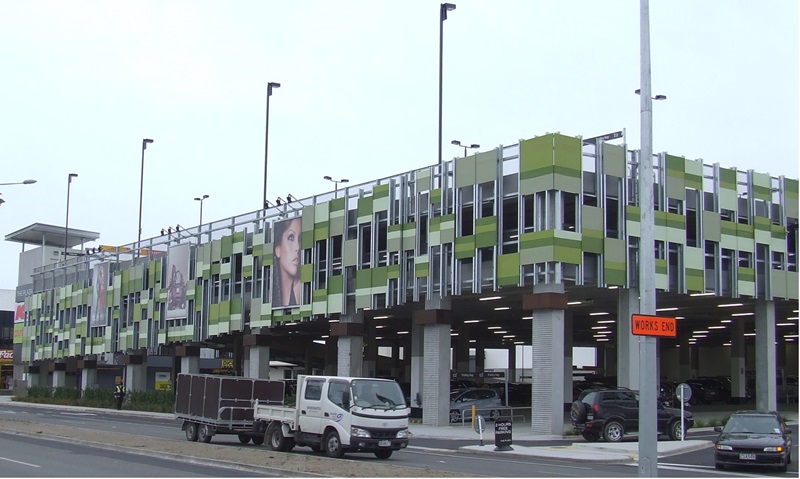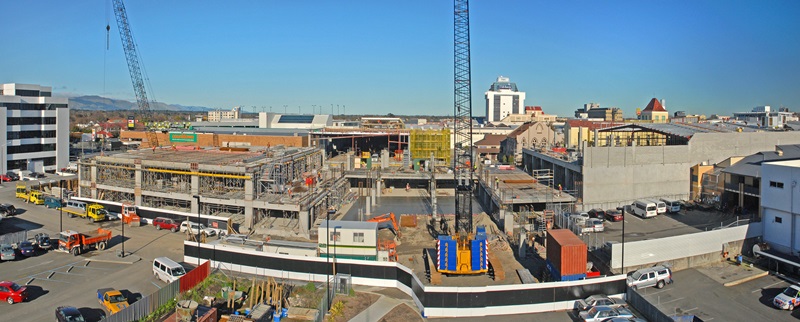 The Plaza Shopping Centre, a fast-track two year refurbishment and extension project in Palmerston North, was the third project undertaken by Lockwood Naylor Ltd, a joint venture company between McMillan & Lockwood and Naylor Love, in association with our Wellington division (the first being the redevelopment at Wanganui Base Hospital and the second Whanganui UCOL.)
The project included a complete refit for the existing shopping centre, as well as increasing the lettable area from 19,700m² to 32,000m², including a new 7,200m² flagship Farmers department store and an increase in the number of speciality retailers from 60 to over 100. We also built two new multi-storey car parking buildings, providing over 1,200 car parks.
The site was once the originally the main car park of The Plaza, and bordered on the still operational existing mall, a supermarket, several shops and a very busy street, requiring considerable ingenuity and careful planning from our project team.
Construction was completed in stages, with 17 separate completion dates for different parts the project, all of which completed on programme or ahead of programme and to a very high standard. As well as the client, we needed to communicate with more than 60 tenants and their shopfitters, with all handovers to the tenants' shopfitters also achieved on programme or early.
We chose to make extensive use of BIM (Building Information Modelling) during this project, including the first use of 5D BIM (linking the virtual 3D model to the cost plan) in New Zealand. The adoption of BIM proved to be a great help in identifying buildability issues before they became problems, as a communication tool with stakeholders, and in keeping the programme on track.
"The construction project was complicated with a significant number of staging requirements as well as requiring multiple interfaces to maintain the existing mall operation for existing tenants and shoppers, and providing access and car parking provisions for the public.

Lockwood Naylor delivered the project on time, on budget and with quality standards that exceeded expectations."
Bryce Solomon, Coffey Projects
Client: Kiwi Income Property Ltd
Completed: Various stages, 2009 – 2010
Categories
Interiors / Fitout, Pre-Construction, Retail, WellingtonBACK TO OUR PROJECTS