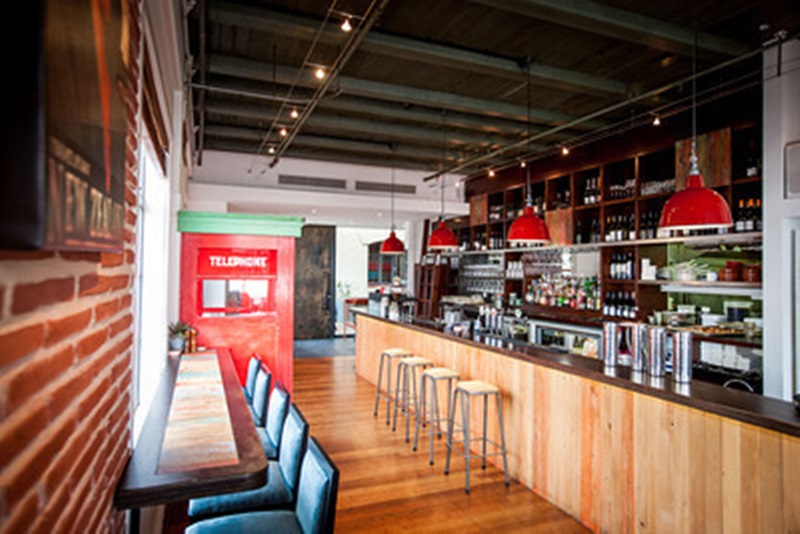 The Naylor Love team was pleased to be asked to work on their fifth restaurant development for the Wai Dining Group in Queenstown, Public Kitchen & Bar. Taking over the space previously occupied by their highly acclaimed Wai Restaurant on the waterfront at Steamer Wharf, the owner-operators decided on a 'classic Kiwi favourites', laid-back restaurant concept.
The space underwent a complete interior transformation, moving away from the fine‐dining aesthetic of Wai to the relaxed, fun vibe required to match their new menu. They approached us with a small picture from a magazine and a brief for us to produce something similar in a five week deadline.
The project team went down to a demolition yard and bought a heap of old materials, discarded warehouse lights and a general variety of quirky and 'very Kiwi' objects, then proceeded to upcycle these into fittings for the new restaurant. We made outdoor tables and the bar and turned old spotlights into leaners. An old red public telephone box, rescued from Waihi Island, became one of the restaurant's entrances.
It was great for our talented team to have a chance to use their creativity and carpentry skills to help the owners realise their vision.
Client: Wai Dining Group
Completed: November 2013
Categories
Central Otago, Interiors / Fitout, Retail, Small WorksBACK TO OUR PROJECTS