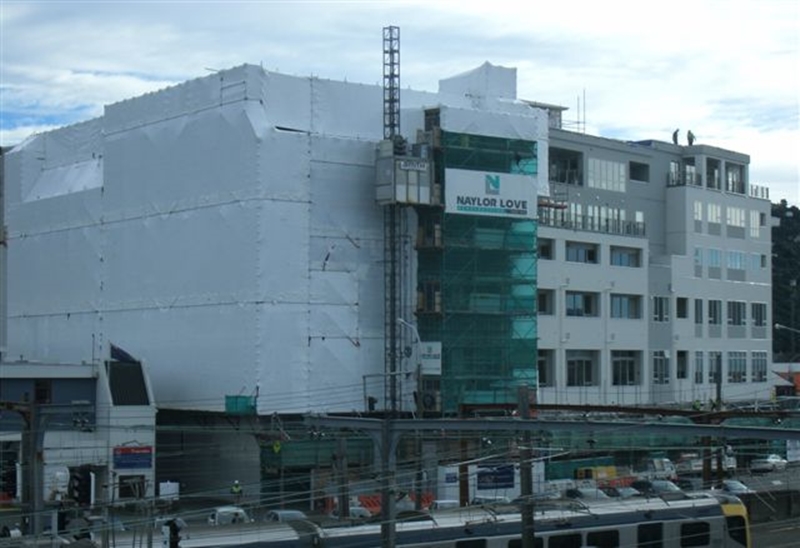 Stadium Gardens Apartments is a prime example of how remedial works can be undertaken in a large multi-unit residential complex – the full re-clad and timber replacement of the perimeter walls and façade was completed while residents occupied the 91 apartments in the building.
We installed solid plywood hoardings located approximately one metre inside the exterior walls of each apartment, completely separating the construction zone from the apartment, and a Tenancy Liaison was appointed to ensure clear lines of communication.
Due to a façade being in excess of 5,000m², the project was split up and undertaken in stages to minimise the total number of tenants that were affected at any one time.
To complete the exterior façade works, a methodology of scaffolding fully wrapped in shrink wrap provided a weather proof working environment, ensuring that there were no weather delays and protecting the finishes. We were pleased with how well this system withstood the famous Wellington winds, needing only occasional minor repairs, and we've used it again in a number of other reclad projects.
The project was extremely labour intensive – at its peak there more than 40 site-based personnel involved in the works. Dedicated site teams, all charged with delivering different elements of the construction, followed each other progressively around the building in a co-ordinated and well managed sequence.
The project, which eventually required 100% replacement of the existing timber framing, was handed over to a very satisfied Body Corporate.
Client: Stadium Gardens Body Corporate
Completed: December 2012
Categories
Accommodation, WellingtonBACK TO OUR PROJECTS