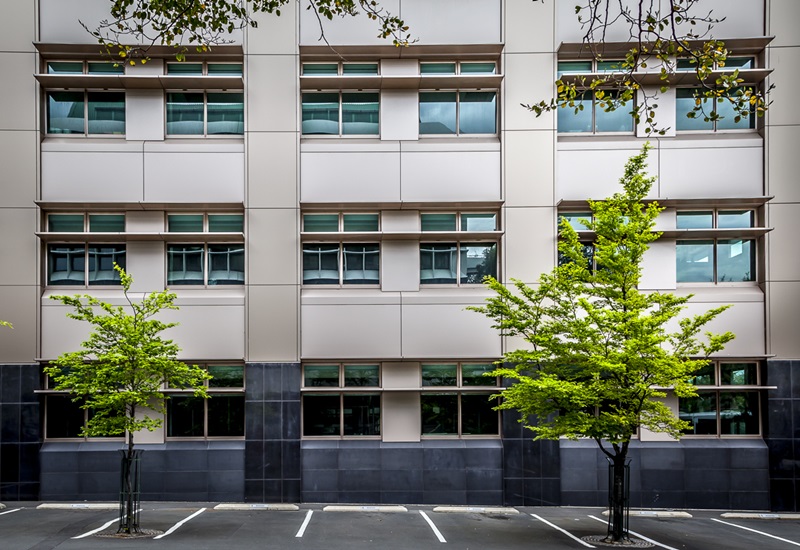 Naylor Love built the eight-storey Microbiology Building at the University of Otago in 1973, using pre-stressed concrete beams in what was at the time an innovative way. More than thirty years later we were back at the Microbiology Building, giving it a significant facelift, carrying out repairs, and installing a new mechanical ventilation system.
The quality of the original build was proven to be excellent, with the bones of the building as sound as the day it was built, but there was some wear and tear with spalling concrete on the panels, columns and beams. As part of the two-year facelift we repaired the concrete and treated the reinforcing steel, then added a completely new lightweight over-cladding.
The over-cladding was a first for New Zealand, with the aluminium composite Apolic panels clipped to mullions running up the building. Great precision was required to ensure that all of the joints lined up perfectly! The panels give the building a modern look, and also allowed a cavity for the installation of a 60mm layer of polystyrene insulation and Hebel firebreaks at window sill level. The existing windows were all removed and replaced with double-glazed units, with sun louvres installed on the north and west sides, and the ground floor was re-clad with a basalt stone finish.
The building remained occupied throughout, with teaching, research and exams needing to coexist with what could have been very disruptive concrete drilling. Careful management and good early communication with building users meant that the work progressed steadily with minimal impact, and we built up excellent relationships with the building users.
The finished building is completely transformed from the outside, and a very pleasant place to work with modern, energy-efficient heating and cooling systems.
Client: University of Otago
Completed: August 2010
Categories
Commercial, Dunedin, EducationBACK TO OUR PROJECTS