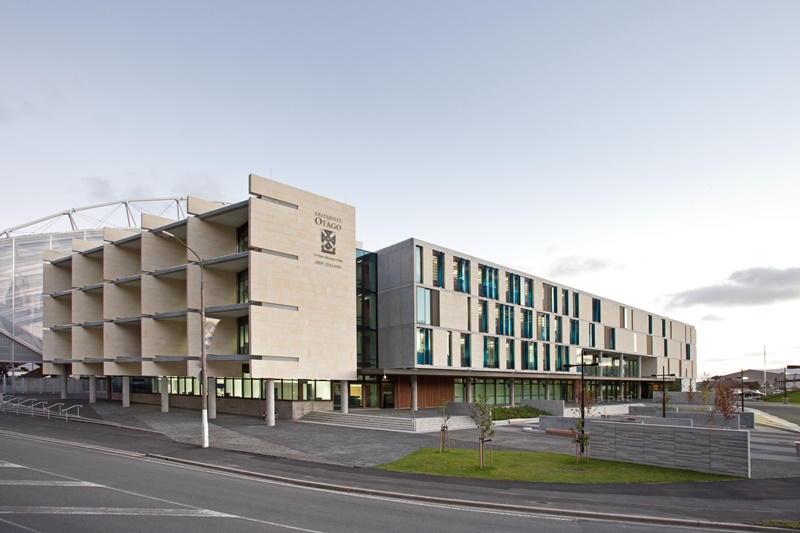 University Plaza Building One is a three-storey complex of gymnasiums, weight training rooms, exercise areas, offices, seminar rooms and a café, all tied together with a glazed atrium.
Oamaru stone, concrete and glass are the predominant materials in the building. 996 precast concrete units inside the building have a satin-smooth finish, while the concrete outside has been deliberately left with evidence of its in-situ pouring. Perforated steel panels are used as interesting architectural features, and three kilometres of American oak battening, placed both horizontally and vertically, add warmth and texture to the design.
Naylor Love was responsible for the construction, planning, coordination and delivery of this project. It included numerous contractor design and build elements, mainly associated with the exterior envelope of the building. Attention to detail was particularly important for the high-quality feature Oamaru stone façade.
The project was staged to meet critical deadlines associated with the 2011 Rugby World Cup, as the building provides support and bracing for one side of Forsyth Barr Stadium. The structure was finished within four months to allow the stadium's roof to be completed, then the exterior was finished within twelve months in time for the World Cup, with the interior fit-out ready for the start of the academic year. It would be somewhat of an understatement to describe this as a tight programme for a project of this size and quality!
Client: University of Otago
Completed: December 2011
Categories
Dunedin, Education, Interiors / Fitout, Leisure & CulturalBACK TO OUR PROJECTS