ANZAC Day at Christ Church Cathedral
ANZAC Day at the Citizens' War Memorial was a little different this year. Work is now under way to deconstruct the Memorial in order to repair, strengthen and reinstate it on a new site in Cathedral Square.
Naylor Love Canterbury Ltd arranged a safe access zone inside the Cathedral's work site, allowing members of the Christchurch Memorial RSA and Australian representative Lt Commander Willett to hold a small service near the Memorial and pay their respects.
A wreath was carefully hung on the outside of the Memorial's scaffolding, where it's clearly visible to passersby.
The RSA is pleased the repair and maintenance work is under way. Christchurch Memorial RSA spokesperson Jim Lilley says, "For a long time now we've had very limited access to the Memorial. I'm looking forward to seeing it repaired and reinstated in Cathedral Square. It'll mean I can go and sit on its steps and spend some time remembering our loved ones who served and sacrificed."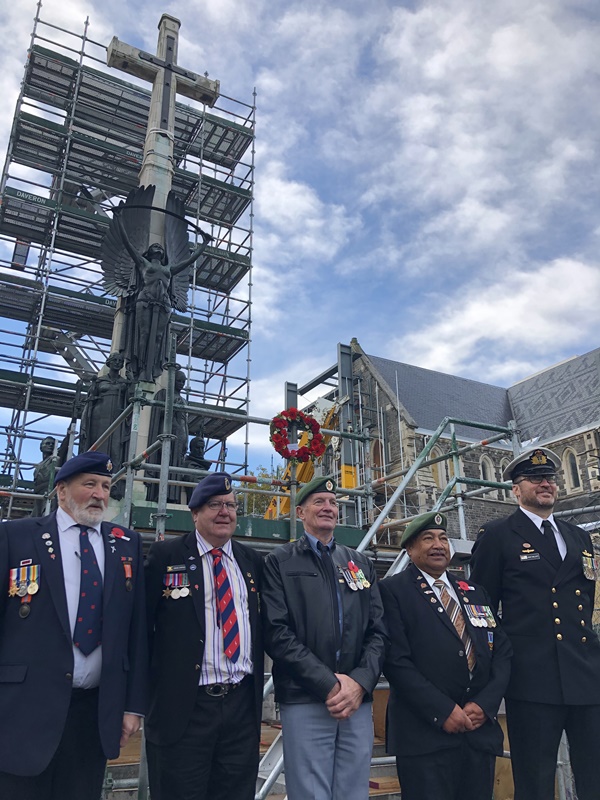 From left: Jim Lilley, Craig Cormack, Steve Stewart, Dave Rarere, Lt Cdr Andrew Willett