We're continuing our mission to divert construction waste from landfill.
Waste from construction and demolition is more than double the total waste from all household collections in Auckland. Knowing where our rubbish is coming from is an important first step in identifying how we can minimise it.
With funding from Auckland Council's Waste Minimisation and Innovation Fund, we started an initiative last year to audit our plastic waste. We collected all the plastic from five of our Auckland sites for half a year, with Unitec's Environmental Solutions Research Centre assessing what we picked up.
Last year's research led to us partnering with Mitre 10 MEGA to trial custom-made reusable timber pack covers, replacing the single-use plastic wrap that is usually used to protect timber from knocks and weather both in transit and on site. We're delighted that this joint initiative led to us receiving a commendation for Community Collaboration at the 2021 Tāmaki Makaurau Zero Waste Awards.
This year we're collecting the plastic waste from one building site from start to finish, again working with Unitec to crunch the numbers. Unitec's Director of the Environmental Research Centre says Dr Terri-Ann Berry says the project is uniquely transdisciplinary,
It demonstrates the power of collaboration between industry, academia and regulators – it is simply amazing what can be achieved and exposing the passion of New Zealanders for the environment is always encouraging.
The collection bins at Onehunga High School, where we're building a new gym and technical block, have already yielded some interesting results and a promising initiative. The plastic waste from phase one of the project, the foundations and structure, was largely made up of pallet wrap for concrete blocks. We're working with the suppliers to see if we can find a reusable alternative and look forward to sharing our findings.
Phase two, the exterior and façade, produced a colourful mixture of soft plastic packaging, film and tape, electrical reels, PIR insulation board, drink bottles, corflute, pipe offcuts, hard plastic packaging, polystyrene, damp proof course and other assorted bits and pieces.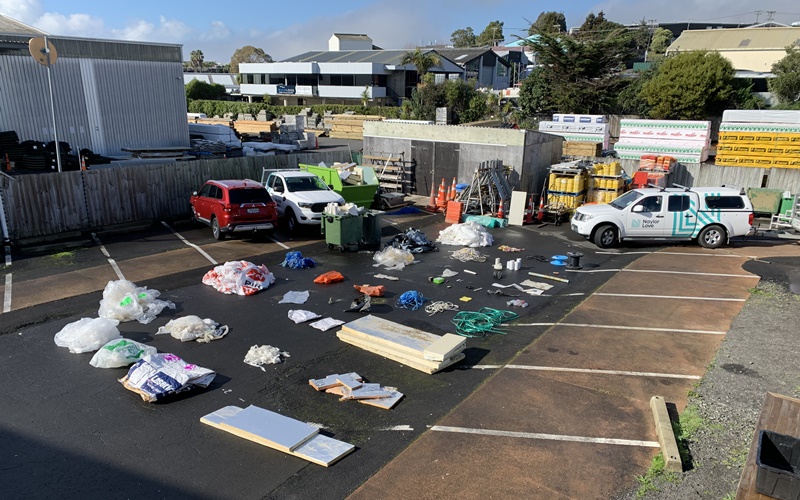 The plastic waste we collected from phase 2, the exterior and façade, at our Onehunga High School site.
We've reused and recycled what we can, and we're approaching manufacturers and suppliers to collaborate on finding alternatives for the plastic waste that we would usually need to send to landfill.
The phase 2 plastic waste with the readily recyclable soft plastics bagged up.
Naylor Love Auckland Project Manager and waste warrior Annie Day commented that,
Almost every company we've reached out to has been very receptive, and some of the solutions we're developing together have the potential to transform how we manage construction waste throughout New Zealand.
Auckland Council is looking forward to seeing more detail come from the study. Senior Waste Planning Advisor Mark Roberts says it's really promising,
Seeing some of the innovative thinking already coming from the research shows us we have accessible ways of tackling the problem. The time is right for the construction and demolition sector to great ideas like this.
We're currently completing the interior fitout at Onehunga High School. Analysis at the end of the project will give us a full picture of the plastic waste generated over the lifecycle of a construction project, and we'll be looking for even more opportunities to eliminate plastic waste!