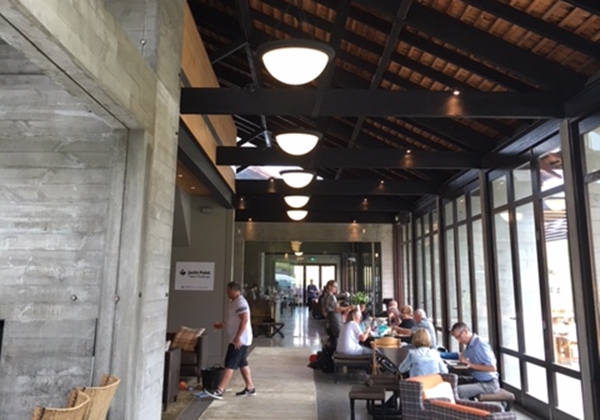 Jack's Point resort sites on 1,200 hectares of stunning, pristine rural landscape located just 15 minutes outside Queenstown.
The Clubhouse includes a restaurant, golf shop and player's lounge and sits at the heart of the resort on the edge of Lake Tewa. Designed to resemble a traditional Kiwi woolshed, it makes a distinctive statement while blending with the surrounding rural landscape. Floor to ceiling windows provide views from every aspect and the roaring open fire and terrace make it a year-round destination.
Naylor Love commenced work on the Clubhouse while the design was still being finalised. This necessitated an innovative and flexible approach, with collaboration key to the success of the build. Large areas of insitu concrete, ground polished concrete floors and exposed recycled timber beams meant that there was no room for error.
The Naylor Love team committed to both accuracy and quality being "100% first time", and handed a beautifully finished project over to a delighted client in a tight timeframe.
We returned to Jack's Point to repair the clubhouse following a major fire in August 2016.
Client: Jack's Point Ltd.
Completed: February 2008
Categories
Central Otago, RetailBACK TO OUR PROJECTS