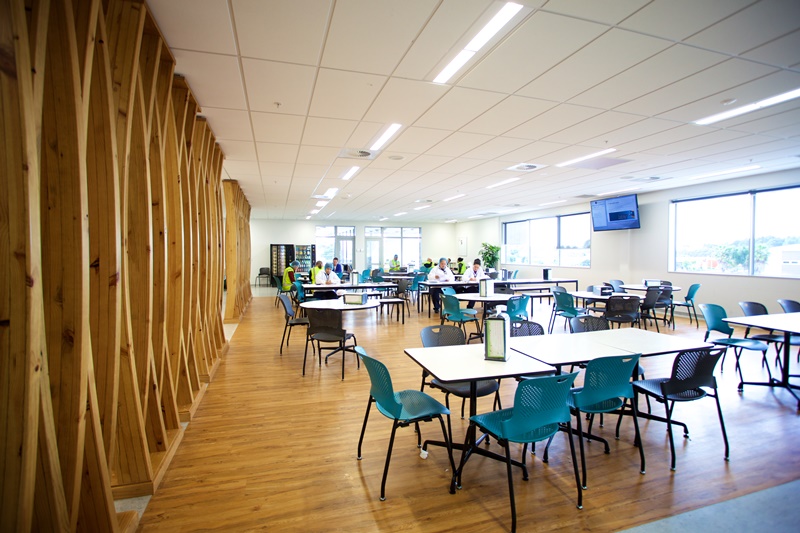 Our project for LSG Sky Chefs was a new flight catering facility in the Auckland Airport precinct. Essentially a giant kitchen complex with the capacity to prepare 20,000 in-flight meals every day, the 12,000m² building has a basement with plant, locker rooms, showers and offices; a ground with 26 cold rooms, fridges, freezers and food preparation rooms; and a first floor with offices and a board room.
The 9,000m² ground floor is the engine room of the operation, containing large chiller rooms and cold stores to house both fresh ingredients and completed meals before they are delivered to the planes. Part of the development is a large warehouse with high racking bays for non-perishables, which required a very high-quality slab.
The main structure has long-span steel portal frames with pre-cast concrete walls and minimal columns to maximise the space, while the roof is a single ridgeline clad with prefinished metal with steps where the sheet joins occur. It was erected in just seven months, with much of the rest of the time devoted to installing and commissioning a maze of services in the heavily serviced facility.
Despite an 13-month ambitious programme, the facility was handed over to LSG Sky Chefs right on schedule.
Client: LSG Sky Chefs
Completed: September 2014
Categories
Auckland, Commercial, Industrial & CivilBACK TO OUR PROJECTS