Victoria University students visit Newlands College
We hosted a group of Victoria University of Wellington master's students at our Newlands College site, giving them hands-on experience of using digital tools.
Daniel Carew from Frequency facilitated the visit from the Masters of Architectural Science students and their lecturer, Dr Wallace Imoudu Enegbuma. The students, Josh Harrison and Fin Gilzean, are completing the Project Management in a Digital Environment course, which provides both theoretical and practical knowledge on contemporary and future technology application in project management.
These technologies include the use of common data environment (CDE) in the entire life cycle of projects (BIM360 and Plandgrid), building information modelling (BIM), virtual reality tools such as Fuzor and Unreal, programme simulation tools such as Synchro, Navisworks and Primavera, unmanned aerial vehicle (UAV) for site monitoring, and coordination using 360 photogrammetry such as HoloBuilder.
The visit started with inductions and was followed by a presentation on point cloud by Moira Macdonald, one of our Construction Management Cadets. Site Manager John Hand then took them on a supervised site walk and gave them an opportunity to play with their high-tech toys, including a LiDAR (light detection and ranging) scanner and drone. The LiDAR produces point clouds that are then processed in Faro Scene, while the photogrammetry photos from the drone are processed in Pix4D. After processing, the students interrogate the point cloud for issues that could affect successful project delivery and report in their assignment.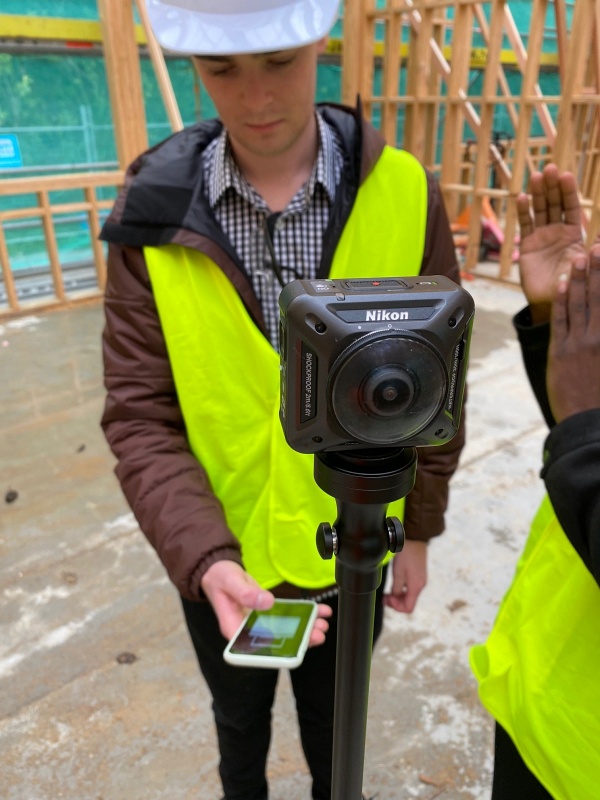 The students gained valuable hands-on experience of using digital tools, applying what they've learned in the classroom on a building site and interacting with a site team.